garlic steak bites and potatoes crock pot Garlic butter steak bites and potatoes
Are you in the mood for an indulgent dinner tonight? Look no further than this mouthwatering recipe for Garlic Butter Steak Bites and Potatoes!
Garlic Butter Steak Bites and Potatoes
This recipe is perfect for a special occasion or simply when you want to treat yourself to something delicious. The combination of juicy steak bites and crispy potatoes, all smothered in garlic butter, is absolutely irresistible.
Ingredients:
1 pound sirloin steak, cut into bite-sized pieces
1 pound baby potatoes, washed and cut in half
4 tablespoons butter, divided
4 cloves garlic, minced
1 tablespoon fresh thyme, minced
Salt and pepper, to taste
Instructions:
Preheat oven to 400°F.
In a large skillet, melt 2 tablespoons of butter over medium heat. Add the minced garlic and cook for 1-2 minutes, stirring occasionally to prevent burning.
Season the steak pieces with salt and pepper, then add them to the skillet with the garlic butter. Cook for 5-7 minutes or until they reach your desired level of doneness. Remove from heat and set aside.
In a separate bowl, toss the halved potatoes with the remaining 2 tablespoons of melted butter and minced thyme. Arrange the potatoes on a baking sheet in a single layer and sprinkle with salt and pepper.
Bake the potatoes in the oven for 20-25 minutes or until they are crispy and tender.
Once the potatoes are cooked, combine them with the cooked steak bites and toss everything together in the skillet with the garlic butter.
Serve hot and enjoy your indulgent Garlic Butter Steak Bites and Potatoes!
More Delicious Variations
While this recipe is delicious as is, there are plenty of variations you can try to switch things up and keep your taste buds excited. For example, you could:
Add some lemon zest to the garlic butter for a bright, fresh flavor
Swap out the thyme for rosemary or oregano
Try using sweet potatoes instead of regular potatoes for a slightly sweeter twist
Feeling Extra Fancy?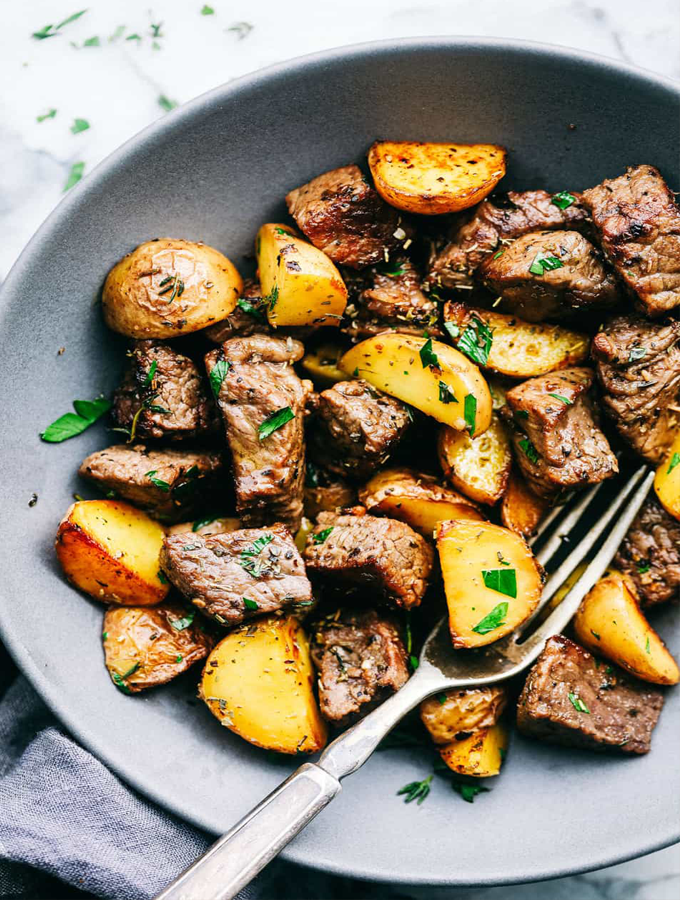 If you really want to take things up a notch, try making Garlic Butter Herb Steak Bites with Potatoes instead. Simply follow the same instructions as above, but add the following ingredients to the garlic butter:
1 tablespoon chopped fresh rosemary
1 tablespoon chopped fresh thyme
1 tablespoon chopped fresh parsley
This adds a burst of fresh herbs to the dish, elevating it to a whole new level of deliciousness.
Crock Pot Convenience
If you're short on time but still want to enjoy this delicious meal, why not try a crock pot version? Simply place the seasoned steak bites, potatoes, garlic butter, and herbs in a crock pot and cook on low for 6-8 hours. You'll come home to a delicious and satisfying meal without all the fuss!
No matter how you choose to make it, Garlic Butter Steak Bites and Potatoes is sure to become a new favorite in your meal rotation. Try it tonight and see for yourself!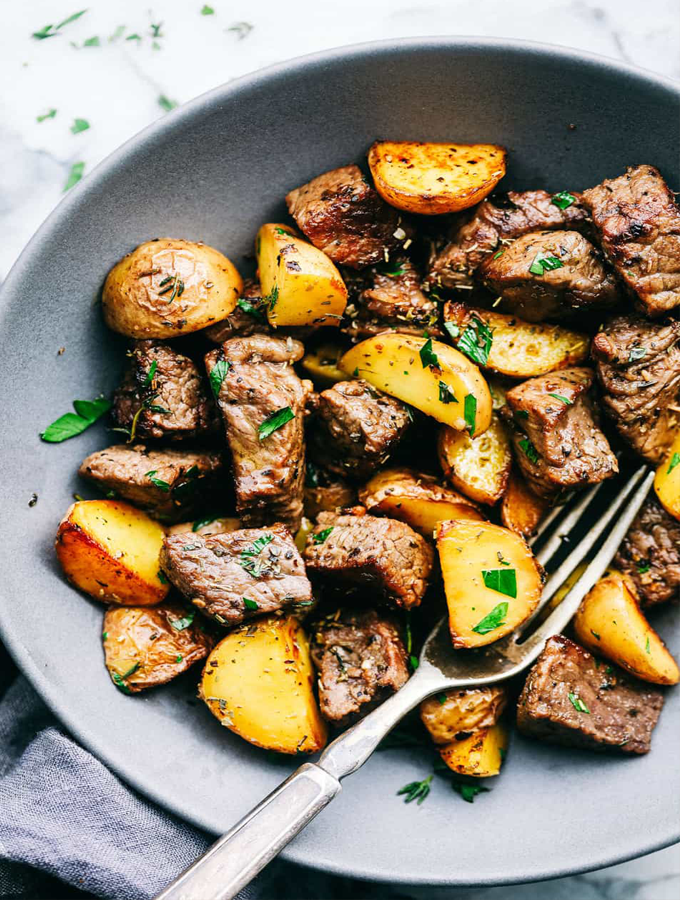 richflavour.com
Garlic butter steak herb potatoes bites. Garlic butter steak bites and potatoes. Steak butter potatoes garlic bites eatwell101 recipe recipes. Crock pot recipe for steak and potatoes. Garlic butter steak bites and potatoes in 2020. Recipe eatwell101. Pin on what's for dinner?. Garlic butter herb steak bites with potatoes
Garlic butter steak bites and potatoes. Pin on what's for dinner?. Steak butter potatoes garlic bites eatwell101 recipe recipes. Recipe eatwell101. Garlic butter steak bites and potatoes in 2020. Crock pot recipe for steak and potatoes. Garlic butter herb steak bites with potatoes. Garlic butter steak herb potatoes bites
ULKNN 2021 kid's Summer BOY'S Girls' Slipper Baby Sandals Beach Girl Summer Sandals For Boys students school sandals
AULA F2088 Spanish Mechanical Gaming Keyboard With Brown/Blue/Black Switch 108-key LED Backlight Suitable For Laptop Gamers
Set of cosmetics onme "secret box" with secret filling
Tuya Smart Life ZigBee 3.0 Curtain Blind Switch for Roller Shutter Electric Motor Google Home Alex MQTTa Echo Voice Control DIY
Bed linen 1.5 bedroom, 2 bedroom, euro/poplin/bed linen set Euro/bed linen 2 bedroom