nail designs 2022 short nails Short stylish
Having short nails is the latest trend for the upcoming year of 2022. You may not have thought of short nails as being stylish and trendy, but they absolutely are! Here are five tips on how to keep your short nails looking fabulous and stylish all year round.
1. Embrace Bold Colors
Don't be afraid to experiment with bold colors when it comes to short nails. With less surface to work with, bright and eye-catching shades can really pop and make a statement. From neon pinks to vibrant blues, there's a huge range of colors to choose from.
When choosing colors, opt for shades that complement your skin tone. For fairer skin, lighter shades and pastels tend to work better, while darker skin tones can pull off brighter hues.
2. Don't Neglect Cuticle Care
When nails are short, cuticles are more visible – so ensure you give them the attention they deserve. Keep them healthy by regularly moisturizing and pushing them back gently with a cuticle stick. This will give your nails a polished look and help them to grow stronger and healthier.
After you have pushed back your cuticles, apply a clear coat or a neutral-toned polish to add that extra touch of polish to your short nails.
3. Experiment with Patterns and Designs
Short nails do not limit you as far as nail designs and patterns are concerned. In fact, a shorter length can create a perfect canvas for intricate patterns and designs. From geometric patterns to abstract designs, the options are endless.
For a playful twist, add some glitter or rhinestones for an extra touch of glam.
4. Take Your Time When Applying Nail Polish
When it comes to short nails, taking your time when applying nail polish is key to achieving a flawless finish. Use a steady hand to ensure you apply the polish as neatly as possible. Short nails tend to show off any imperfections, so be patient and take your time.
With short nail length, you can easily experiment with different nail shapes – from square to almond, oval and ballerina – until you find the one that suits you best.
5. Keep Your Short Nails Clean and Neat
To keep your short nails looking fresh and clean, make sure you clean them regularly with soap and water or a gentle cleanser. This will help prevent any yellowing and keep your nails healthy.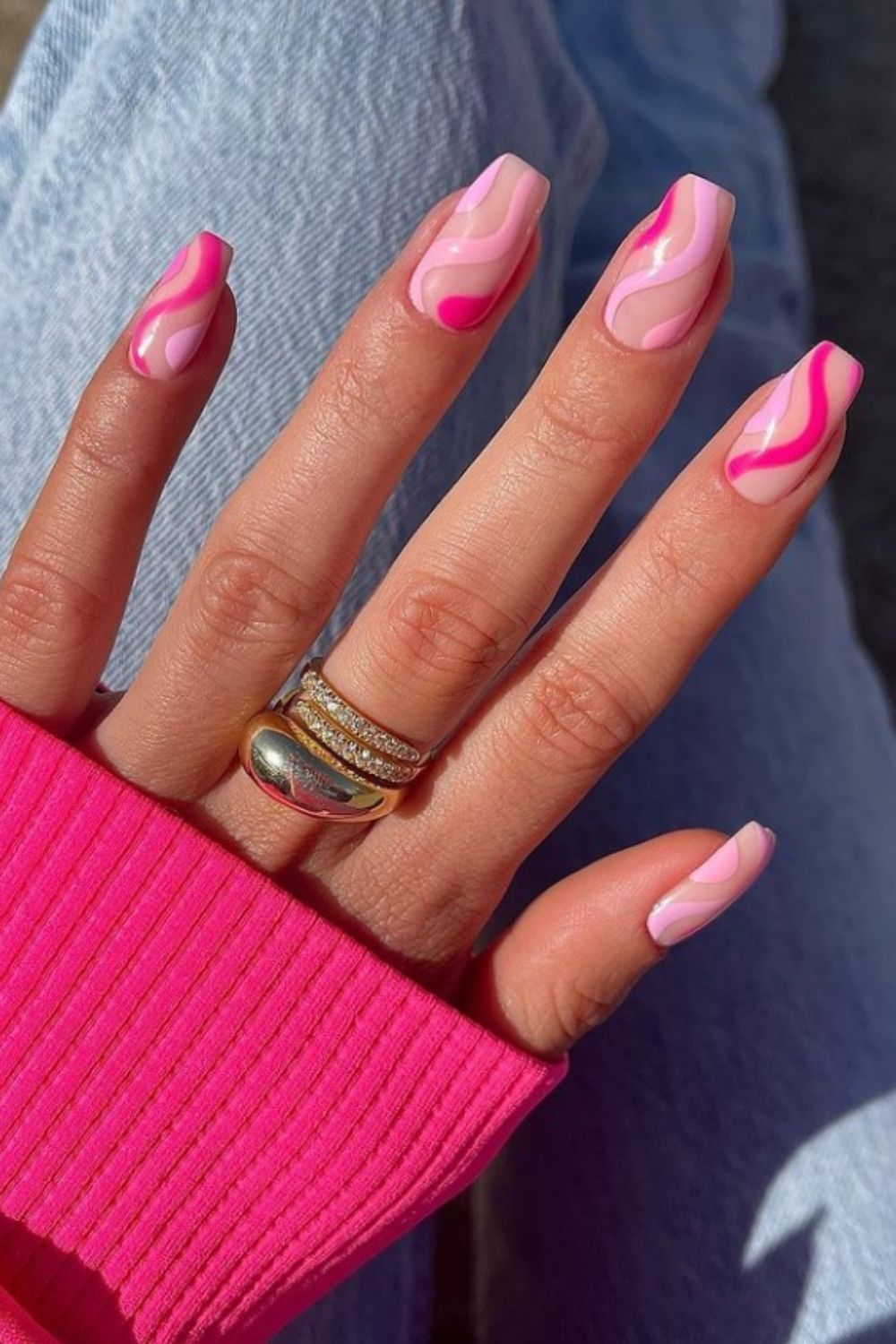 To add a touch of color, opt for a classic French manicure or a nude-toned polish for an understated yet polished look.
With these tips, you can create stunning looks with your short nails that are sure to make a statement in the upcoming year of 2022. Be creative, be bold, and most importantly, have fun with your nail designs.
stylish-nails.com
Ballerina inspo mycozylive. 44 natural short square nails designs 2021 you'll love in summer!. Manicure for short nails 2021-2022: fresh design ideas for short nails. Short stylish. Pin by lilly minton on nail ideas. Nude shellac rover yesnicest. Class of 2022 acrylic nails. Short nails 2022: top 20 reasons to keep short nails this year. Unhas mauve holographic formatura fryzury coffin grzywka zszywka. Short nails 2022 manicure nail 2021
Unhas mauve holographic formatura fryzury coffin grzywka zszywka. Short nails 2022: top 20 reasons to keep short nails this year. Ballerina inspo mycozylive. Nude shellac rover yesnicest. 44 natural short square nails designs 2021 you'll love in summer!. Class of 2022 acrylic nails. Pin by lilly minton on nail ideas. Short stylish. Manicure for short nails 2021-2022: fresh design ideas for short nails. Short nails 2022 manicure nail 2021
Truelove Pet Leash Floral Rope Leash for Dog and Cat Neoprene Padded Handle 100% Cotton Fabric Zinc-alloy Hook Outdoors TLL2573
AULA H510 RGB Gaming Mouse 10000 DPI Side Buttons Marco Progrommable Egronomic 14 Wire Backlit Game Mice for Laptop
8.5inch/6.5inch LCD Writing Tablet Digital Graphic Electronic Handwriting Magic Pad Blackboard for Kids Color Drawing
5MP PTZ IP Camera Wifi Outdoor AI Human Detection Audio 1080P Wireless Security CCTV Camera P2P RTSP 4X Digital Zoom Wifi Camera
BEBONCOOL Wireless Bluetooth Gamepad For Nintendo Switch OLED Console with Programmable Function Pro Controller For Switch