crispy fried chicken burger Chicken thigh crispy burger fried recipe ingredients
Hey there foodie friends! Are you ready for some finger-lickin' good chicken burgers? We've rounded up some of the most mouth-watering and crispy chicken burgers out there for you to sink your teeth into. So, let's get clucking!
Crispy Fried Chicken Burger

This burger is so crispy, you might mistake it for a potato chip! Start with some chicken breasts, marinate them in buttermilk, then dip them in a flour and seasoning mixture before frying until golden brown. Top your burger with your favorite veggies and condiments, and enjoy the ultimate crunchy satisfaction.
Ingredients
2 boneless, skinless chicken breasts
1 cup buttermilk
1 cup all-purpose flour
1 teaspoon salt
1 teaspoon black pepper
1 teaspoon garlic powder
1 teaspoon paprika
4 burger buns
Lettuce, tomato, onion, and condiments of your choice
Instructions
Cut each chicken breast in half crosswise to make 4 pieces of equal size. Place the chicken in a shallow bowl and add the buttermilk, turning to coat. Cover and refrigerate for at least 30 minutes, or up to 12 hours.
In a large shallow bowl, whisk together the flour, salt, pepper, garlic powder, and paprika.
Remove the chicken from the buttermilk and shake off the excess liquid. Dip each piece in the flour mixture, pressing the coating onto the chicken to help it adhere.
In a large skillet, heat 1/4 inch of oil over medium-high heat until shimmering. Add the chicken and cook until golden brown and cooked through, about 4 minutes per side.
Toast the buns and assemble the burgers with the chicken and your desired toppings.
Crispy Chicken Burger with Honey Mustard Coleslaw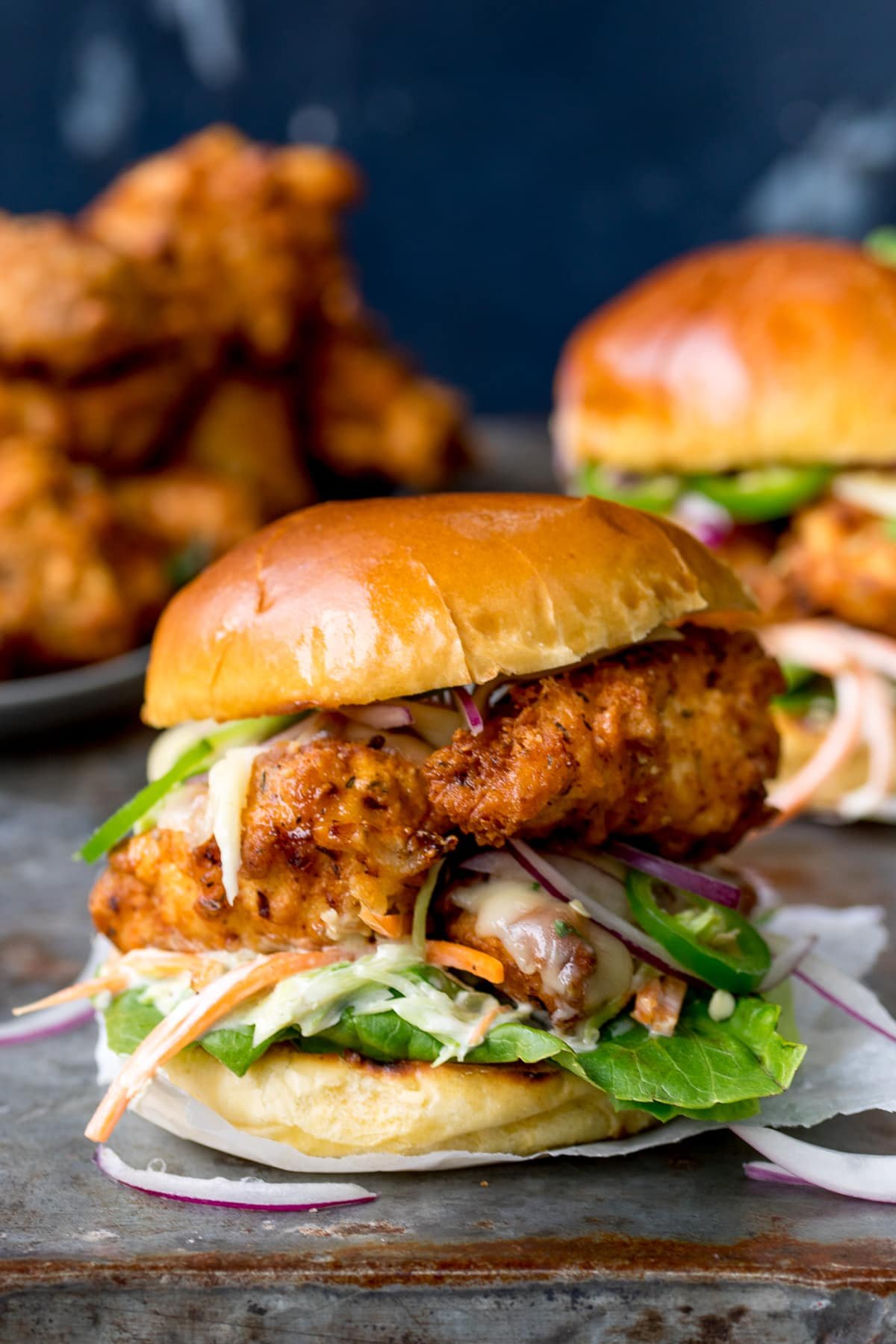 If you like your burgers with a little extra pizzazz, this one's for you. The chicken is seasoned with a blend of spices and coated in panko breadcrumbs for an extra-crunchy crust. Top it off with a tangy and sweet coleslaw made with honey mustard, and you've got a flavor explosion in every bite.
Ingredients
4 boneless, skinless chicken breasts
1/2 cup all-purpose flour
1 teaspoon paprika
1 teaspoon garlic powder
1/2 teaspoon salt
1/2 teaspoon black pepper
2 eggs
1 cup panko breadcrumbs
4 burger buns
Honey mustard coleslaw (recipe follows)
Instructions
Preheat the oven to 400°F. Line a baking sheet with parchment paper.
In a shallow bowl, whisk together the flour, paprika, garlic powder, salt, and pepper.
In another shallow bowl, beat the eggs.
In a third shallow bowl, place the panko breadcrumbs.
Coat each chicken breast in the flour mixture, shaking off any excess. Next, dip it in the egg, then press it into the breadcrumbs, coating evenly.
Place the chicken on the prepared baking sheet and spray with cooking spray. Bake for 20-25 minutes or until the chicken is cooked through and the crust is golden brown and crispy.
Toast the buns and assemble the burgers with the chicken and honey mustard coleslaw.
Honey Mustard Coleslaw
Combine 1/4 cup mayo, 2 tablespoons honey, 2 tablespoons dijon mustard, 2 tablespoons apple cider vinegar, 1 teaspoon garlic powder, and 1/4 teaspoon salt in a bowl. Whisk until smooth. Toss with 4 cups shredded cabbage and carrots.
And there you have it, folks! Two crispy chicken burgers that will make you cluck with joy. Happy eating!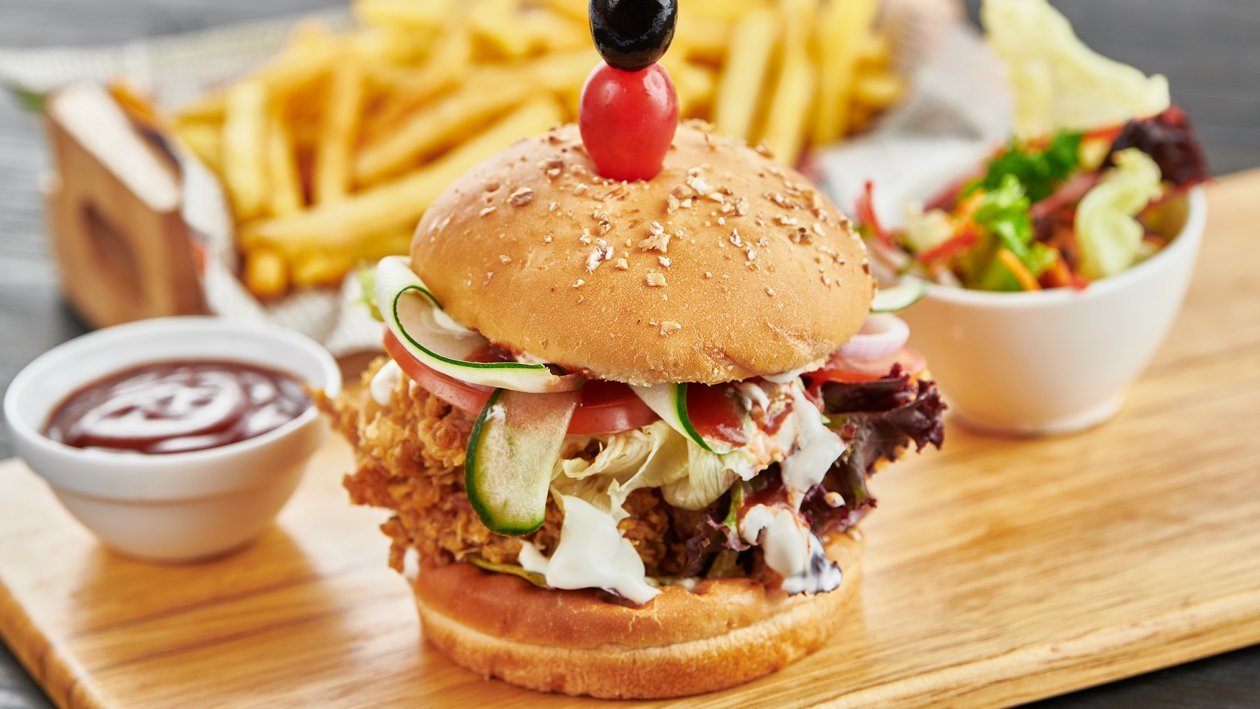 www.unileverfoodsolutions.lk
Burger chicken crispy fried sandwich recipe food ingredients below spoiler. Crispy fried chicken burger. Easy crispy chicken burger. Crispy chicken burger with honey mustard coleslaw. Burger crispy. Chicken burger : recette de chicken burger. Chicken thigh crispy burger fried recipe ingredients. Crispy fried chicken thigh burger. Burger hamburguesa crujiente crispy kfc hamburguesas ligera ajo marmiton hamburger okdiario istock frito toronto crujientes qpasa
Easy crispy chicken burger. Burger chicken crispy fried sandwich recipe food ingredients below spoiler. Chicken thigh crispy burger fried recipe ingredients. Crispy fried chicken burger. Burger hamburguesa crujiente crispy kfc hamburguesas ligera ajo marmiton hamburger okdiario istock frito toronto crujientes qpasa. Burger crispy. Chicken burger : recette de chicken burger. Crispy fried chicken thigh burger. Crispy chicken burger with honey mustard coleslaw
V4 Rc Drone 4k HD Wide Angle Camera 1080P WiFi fpv Drone Dual Camera Quadcopter Real-time transmission Helicopter Toys
ROCKBROS Spain Warehouse BIG Sale Bicycle Helmet Cycling Helmet Free Shipping
48V 200Ah 100Ah LiFePO4 Battery Pack 51.2V 10Kw 6000 Cycles PC Monitor Max 32 Parallel 16S 200A BMS Lithium Ion Battery No Tax
Car Underglow Neon Accent LED Strip Lights App Control RGB Auto Exterior Underbody Decorative Ambient Atmosphere Lamp
LAOPAO Modern Business Led Office Desk Lamp Touch Dimmable Foldable With Calendar Temperature Alarm Clock table Reading Light